UK (London Heathrow) to India (Mumbai) travel experience during quarantine
Posted on
I finally reached and checked into my hotel early this morning at about 1:45 am IST on the 28
th
Feb. I had been following a whatsapp group, the main purpose of which was to discuss about travelling to India from the UK and vice versa. The facebook group IIL (Indians in London) was also quite helpful. The following is a bit of information I could gather from my London to Mumbai travel experience:
1. Information sources:
A. Government issued SOP - https://www.mohfw.gov.in
B. Whatsapp group - "Departure and Arrival Group". This group is for Travel & COVID information sharing and for Travelling assistance and procurement from India & abroad
https://chat.whatsapp.com/BobVDpfH3T1IpeHketsGa6
C. Facebook group: IIL (Indians in London) - https://www.facebook.com/groups/DesiLondoners/
D. Before you return to the UK: https://www.gov.uk/uk-border-control/before-you-leave-for-the-uk
E. List of Mumbai quarantine hotels:
2. Documents I took with me:
1. Filled "India customer declaration form" online for Virgin Atlantic - https://flywith.virginatlantic.com/gb/en/news/coronavirus/india-declaration-form.html?webform=india-declaration-form
2. Submitted "Health declaration form" (Airsuvidha) and downloaded and printed it - https://www.newdelhiairport.in/airsuvidha/apho-registration
Note that you can't submit this form before you have your Covid19 negative RT-PCR test certificate and your flight seat number. In my case I had my negative RT-PCR test result however, didn't have a seat number allocated to me and the online check-in was allowed only 24 hours prior to the scheduled flying time. I didn't have the patience to wait for it although it was just a day's wait. So, I purchased a seat for myself for £30. I think it proved to be a good decision because when I tried to check-in online, it didn't allow me saying I needed to check-in at the airport.
3. Registered online in Indian High commission website - required by Virgin Atlantic - https://docs.google.com/forms/d/e/1FAIpQLScFZjAQr-0JOTDSW2pfME8LRwgcko8_tm0_GCpNdom3hy6Dyg/viewform?vc=0&c=0&w=1
4. Printed negative RT-PCR test
5. Carried Passport and OCI
6. Printed out air tickets
8. I booked hotel in advance for 7 nights (details below).
3. Covid19 RT-PCR (Fit to fly) test:
My flight VS354 (Virgin Atlantic) was scheduled at 9:35 am on Saturday the 27th Feb 2021. So I booked the covid test at 2pm on Wednesday which was within 72 hours of flying. I booked the rest at Heathrow express test centre – Covid 19 test | Heathrow
Cost: £80
Documents to take: Passport and QR code received via email
From what I've heard and read, the free NHS test is not supposed to be used for travelling purposes but I think a few people have used it successfully to travel.
I had to be at Heathrow test centre 15 mins prior to the test. It's a very simple test which I had done myself as well a few weeks ago through NHS (not for travel purposes but because I had a cough which lasted for about 4 hours). A stick which looks like the stick having a cotton bud which you use to clear your ears is put in your mouth till it touches the tonsils. It is rubbed on the left tonsils for 10 seconds and then to the right tonsils for 10 seconds and then inside one of the nostrils for 10 seconds. The stick is then broke and the part having the bud is sent for testing.
The test is not painful but can be a bit discomforting.
Result time: They say the results come by next day 10pm. But might take 48 hours as well. In my case, the results came at 10:53am via email. So, in my case the results reached me in about 21 hours.
The result comes in the form of certificate (PDF) which can be then printed.
4. Quarantine hotel booking for Mumbai:
I think the following people are exempt from institutional / Hotel quarantine:
If your child is less than 10 years old
If your age is 65 or more.
If you or your wife is pregnant.
If you are travelling because someone has passed away.
A friend of mine whose final destination was Mumbai, showed a letter showing that her mum had to undergo a medical operation. She was allowed for 14 day home quarantine.
I think only in Mumbai the rule of initial 7 days hotel quarantine still exists.
In my case none of the above was applicable. I was travelling to see my family and to get away for a break from the loneliness and anxiety.
No one asked me the reason for travel.
So, since the above 4 points were not valid for me, I had to book a hotel in Mumbai for 7 nights.
List of Mumbai hotels:
https://portal.mcgm.gov.in/irj/go/km/docs/documents/HomePage%20Data/Whats%20New/Exemptions%20from%20Institutional/Hotel%20List.pdf
I think the price range is from Rs.1200 to Rs.5500
I booked Hyatt Regency for Rs.3500/night.
It's inclusive of breakfast, Lunch and dinner and basic WiFi too.
To book in Hyatt Regency, you need to email – [email protected] , [email protected]
In the email I mentioned checkin date and checkout date and mentioned that I would prefer a room with a view, smart T.V etc as I might be bored being quarantined for 7 days.
I received a booking confirmation email from them immediately. I paid them in cash during check-in. Although they accept card payment as well.
Do not book hotel from their website for quarantine purposes as those deals are not part of the quarantine hotel deals.
Hyatt contacts:
Aditya – 0091 9820918337
DM Hyatt – 0091 9820918336
Gaurav Sharma – 0091 9820918333
Prashant Khanna – 0091 9920258787
All the above mentioned people were helpful.
5. Online check-in
Since my original Virgin Atlantic flight VS 354 from Heathrow to Mumbai was an economy light booking, check-in luggage allowance wasn't included. I couldn't buy the check-in luggage allowance as well because this could be done only during check-in and which could be done only 24 hours prior to the flying time.
Unfortunately when I tried to check-in 24 hours before the scheduled flight time, the VA website said that I was not allowed to check-in online and that I had to check-in at the airport only. I called their customer support guys and they said that I could pay for the check-in baggage allowance (£45) during the check-in.
I needed a seat number as well to fill up the "seat number" field in the Airsuvidha form. I got the seat number a day before the online check in as I paid £30 extra for it.
6. Cab to Heathrow
I decided to reach the airport about 4 hours in advance no matter how silly it sounded (although it was not necessary). In the above mentioned whatsapp groups I'd read that a few people who arrived 3 hours before the departure time also had to rush to catch the flight. Hence the decision to avoid last minute panic.
I live just 35 mins drive away from Heathrow. I booked a cab online from – www.heathrow-taxi-booking-co.uk
It had good reviews. And the Pakistani Taxi was very friendly and professional. I had requested him to arrive at 5am. He arrived 10 mins before time. Which was good too.
As per the website you need to pay about 35% of the fee in advance and the rest after the drop. Total cost was £32.
I didn't have cash and the driver didn't have a card machine. So he waited till I withdrew the cash from a Terminal 2 ATM which charged me a fee of £2.50 as far as I remember.
I will book the same driver while my return as well.
7. Check-in at airport
As mentioned above I reached at Heathrow airport Terminal 2 at about 5:30 am while my departure was at 9:35 am. Eventually I realised that it was unnecessary as everything was pretty straightforward and quick.
There were just 2 couples ahead of me in the check-in queue. The check-in process started at about 5:50am I think. While in the queue itself, they checked the passport and Airsuvidha form. Some people hadn't filled it so were asked to fill it immediately. While in the queue, the next thing they checked was above mentioned "India customer declaration form" online for Virgin Atlantic. If you're travelling via Virgin Atlantic, filling this form before flying is very important. Although I had filled this form a day or 2 before flying, during check-in it wasn't visible in Virgin Atlantic's system. They asked me to fill it again online which I did using my phone in front of them. However it was still not seen in their system. They were trying to search it using my passport number but were unable to find it. I filled the form 2 times again. But still not visible!! After sometime a lady from their team double checked and found my form in "another green list". Not sure what that meant but the good thing was that I could proceed to the next stage.
At the check-in counter I checked in my big luggage and paid for it in another Virgin Atlantic counter. The lady at the check-in counter was quite helpful and clear.
8. Security clearance
After check-in of the bag, to enter the security clearance area, I scanned my boarding pass and showed to face to the camera to click a photo. Followed the usual procedure. They asked to remove the shoes as well.
9. Lounge, gates, departure and landing
Apart from the main shopping area specifically for perfumes etc and a farmacy, rest of the shops were closed. There weren't many people at the airport.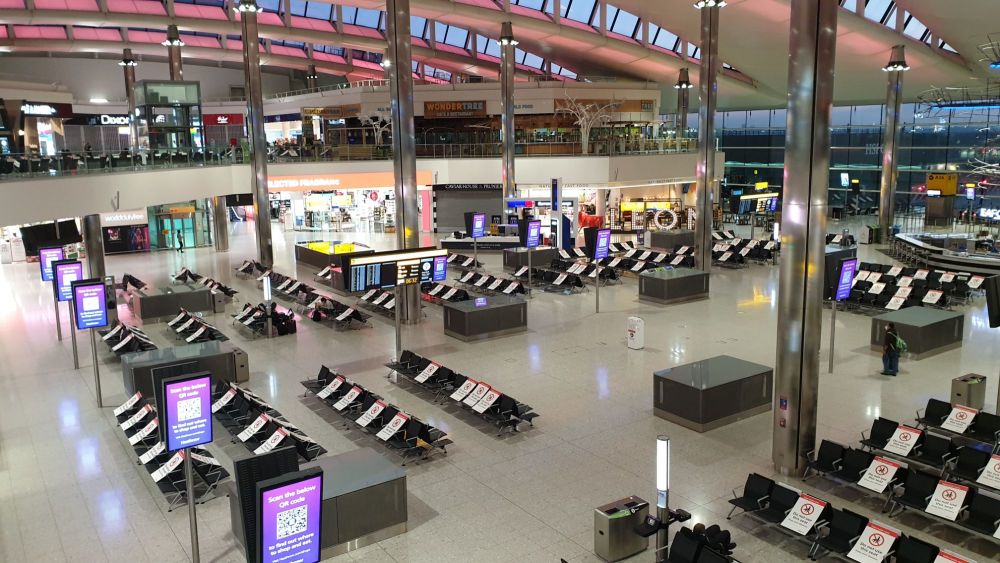 Departure gate was displayed about an hour before the departure time.
Departure gate was B36 which was a bit of walk from the Lounge area as pointed out earlier by the lady at the check-in.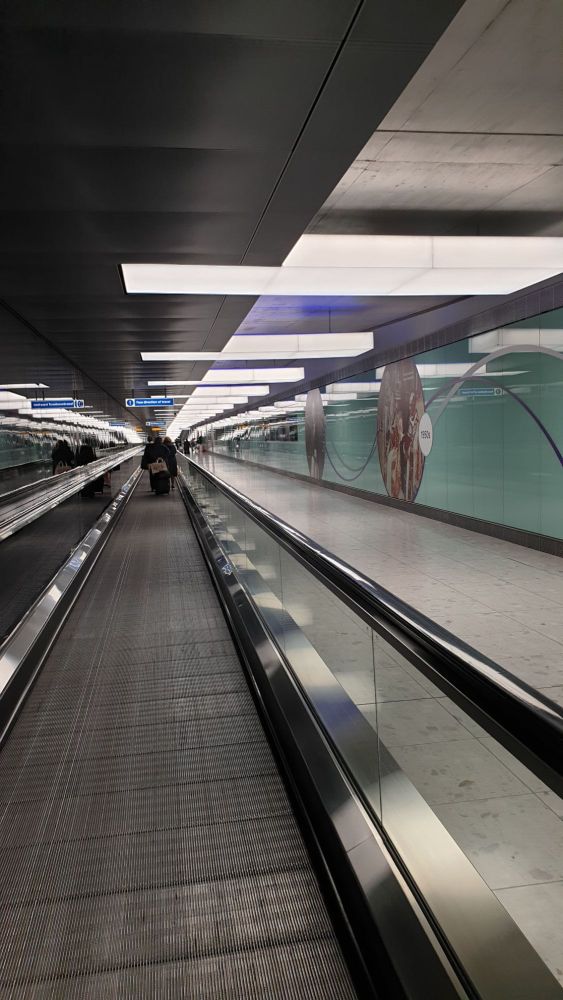 We were handed a pouch containing masks and a visor / face shield. The visor had to be worn for about 30 mins after taking off and just before landing. It could be taken off apart from those 2 time intervals. Masks had to be worn at all times apart from eating and drinking. They handed over a form with heading – "UNDERTAKING GIVEN BY INTERNATIONAL PASSENGER FOR EXEMPTION/CONSIDERATION FOR HOME QUARANTINE RULES AS PER GUIDELINES BY MINISTRY OF HEALTH & FAMILY WELFARE, PUBLISHED ON 05.11.2020". I didn't fill up this form completely as I didn't have a reason for exemption: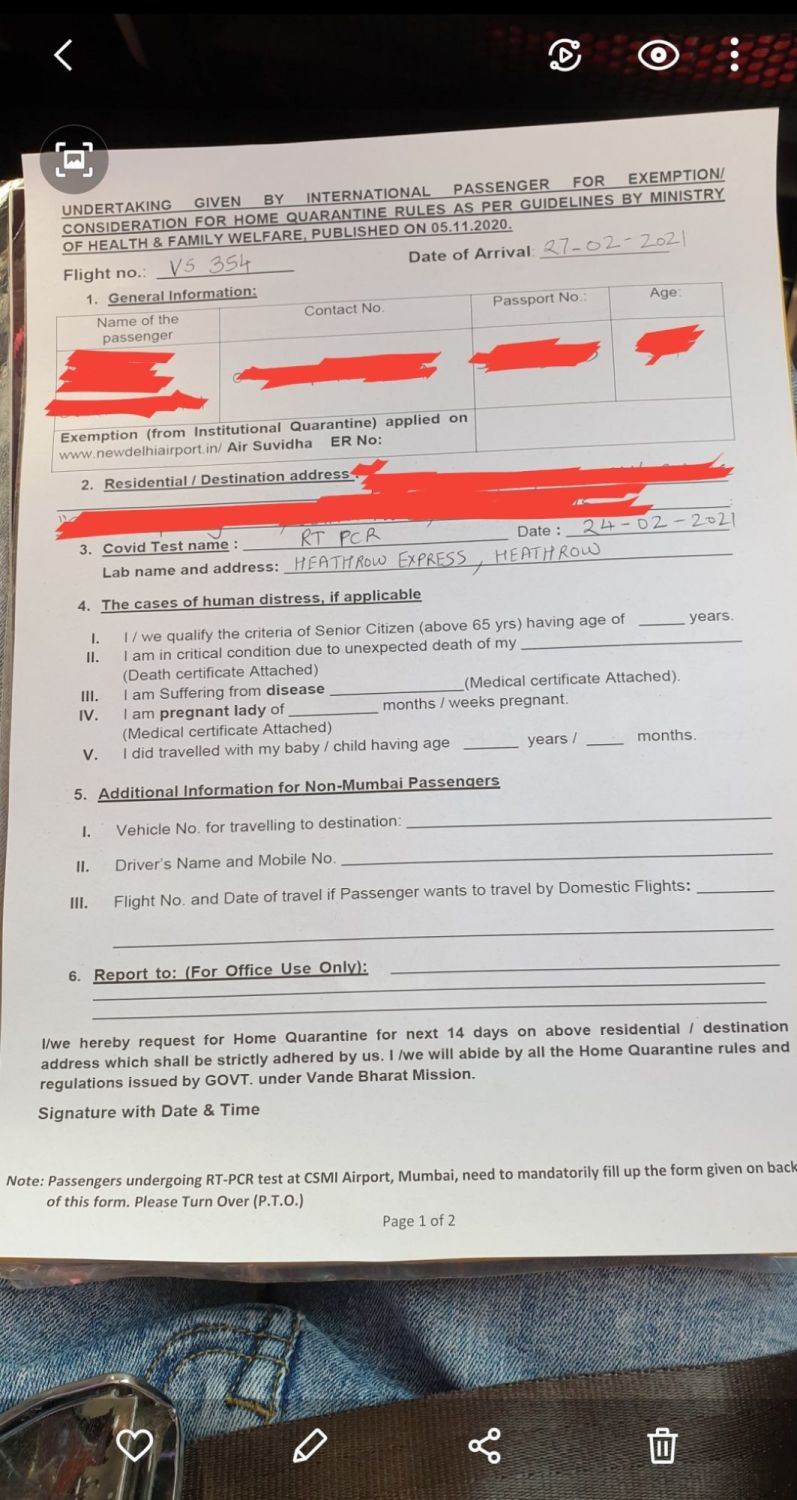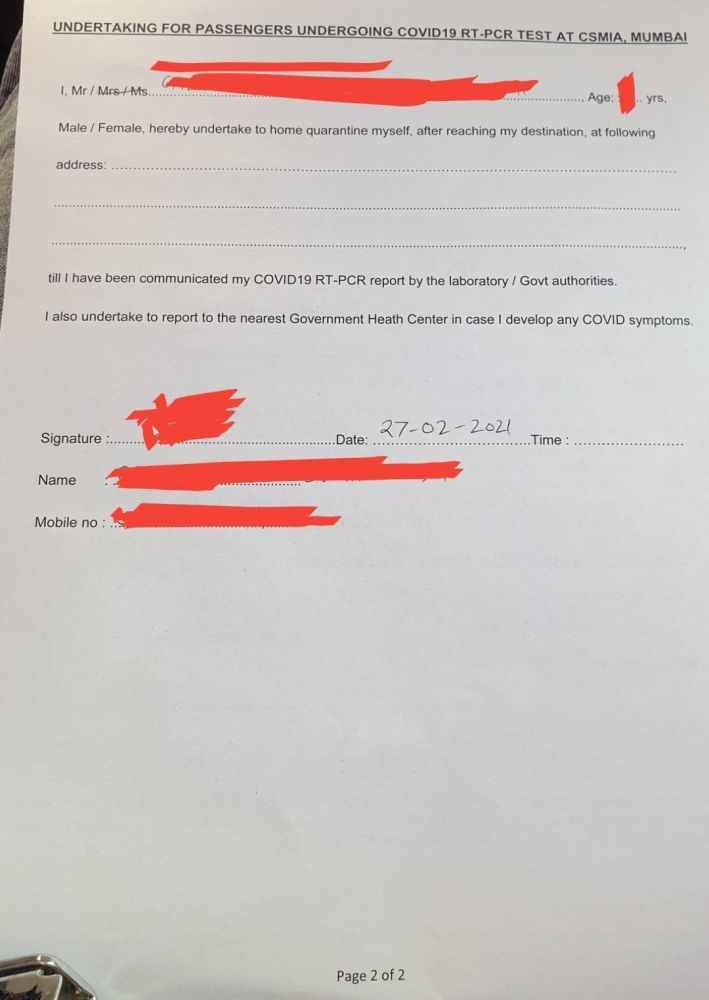 There were less people than usual in the flight. I had chosen a window seat on the middle right side of the plane. There was no one sitting with me or in my immediately front, back and left (middle seats of the plane).
About 30 mins before serving the lunch, they served a glass of juice.
For lunch (non-veg option) there was a pack of 2 Mcvities Digestives milk chocolate biscuits, chicken spicy apricot sauce with rice (very average taste), 2 Jacobs table cracker snack, still water, dessert - milk chocolate & seaside salt (was nice), Boursin tartine (tasted good after applying on the crackers).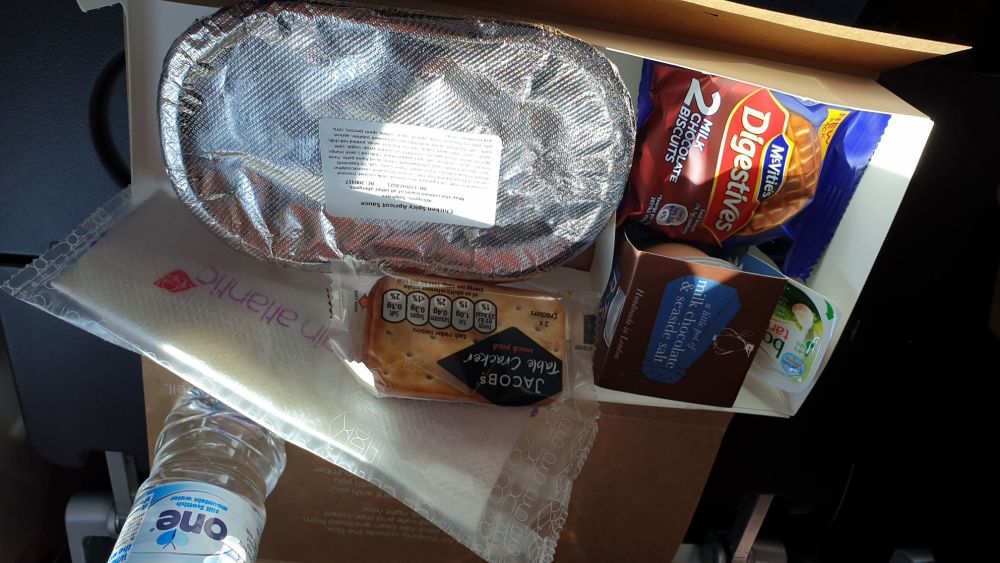 Between lunch and supper/dinner juices and water were served if anybody needed them.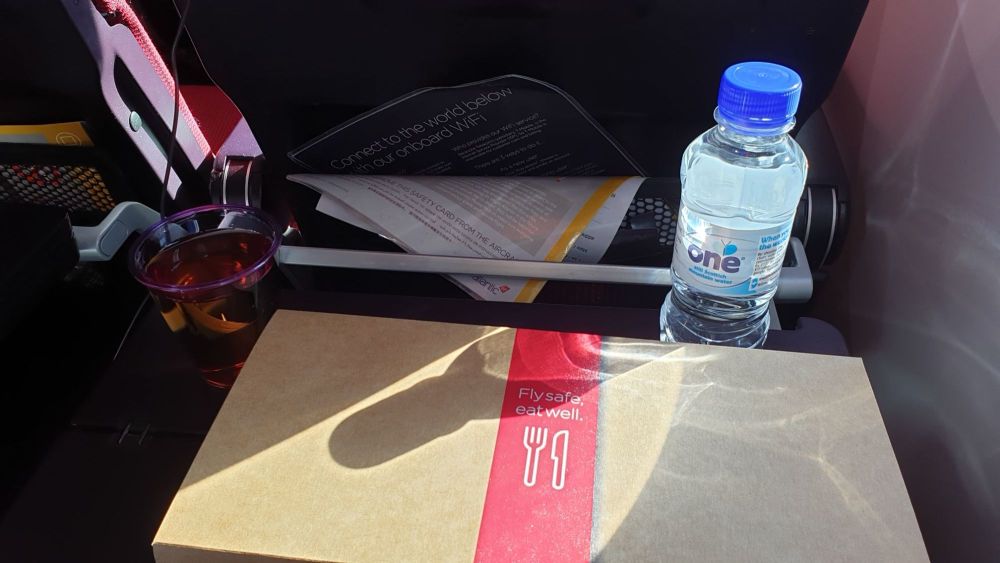 For supper/dinner there was a fancy "Eric Lanlard" box containing a small sandwich having slice of tomato and cheese and the some herbs and spices, 1 scone, Rodda's classic Cornish clotted cream, Bonne Maman strawberry jam/marmalade, tea/coffe.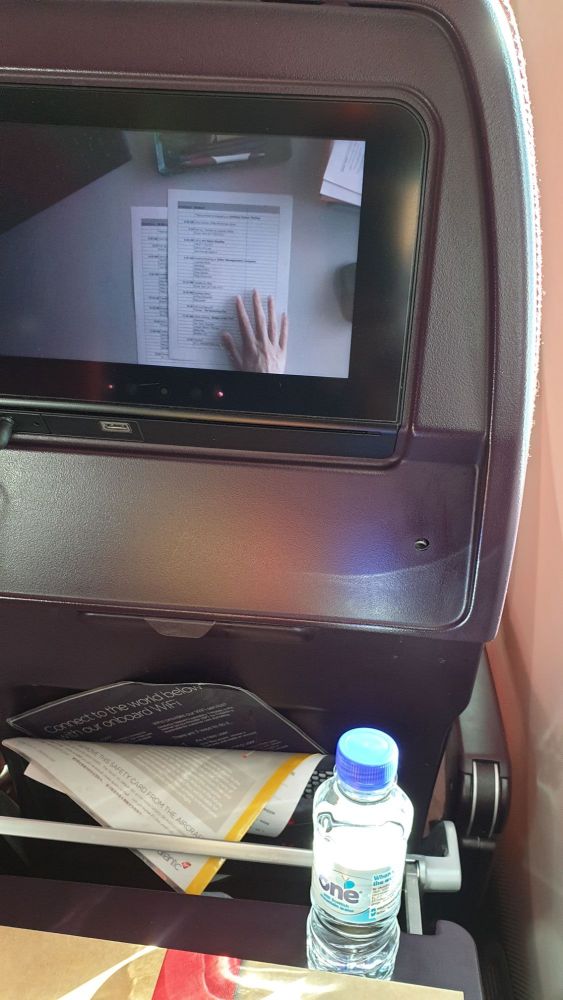 10. After landing, immigration, customs, Quarantine requirement check and transport to the hotel
Immediately, after landing and getting out of the plane our Airsuvidha form was checked (just given a glance). It was checked again at the next check point. The immigration counters were literally empty. They checked my passport, OCI, boarding pass and Airsuvidha and/or negative covid test result (don't remember exactly). It was all very quick. There was no covid test at Mumbai airport. I picked my luggage from the conveyor belt and passed my luggage through the scanners at the customs check. After that while proceeding towards exit a guy stopped me and started interrogating. He took me in a room and asked me to show all electronc devices by opening my bag, pockets, checked my jacket, asked why this is so thick? What is inside? I said I don't know it's just cloth. He then said probably they make it thick as it's cold there.
Eventually he said since you are carrying 2 laptops (1 office and 1 work), you should have mentioned about it in the customs. I said sorry I wasn't aware that I couldn't carry 2 laptops. He said since you look like a decent guy and tired after your journey, I'll let you go. I thanked him and proceeded further.
After that I went to currency / money excange counters due to social distancing reasons. People were not sitting at the counters but at the back side of the counters calling out for people like me and asking if I needed currency.
I got Rs30600 for around £330 at about 1am at night.
After that for a moment I thought that why didn't anyone ask me or tell me about the quarantine? Was I just free to go to Pune? As I started approaching towards "Exit" a guy stopped me and asked where was I heading to. And as I said "Pune" I thought to myself "It's not that easy brother :( ".
He pointed me towards an entry which was divided into 2 queues. One said "Mumbai" and the other said "Rest of Maharashtra". I went to "Rest of Maharashtra". Again there was no one in the queue. The guy at the counter checked my form headlined as "UNDERTAKING GIVEN BY INTERNATIONAL PASSENGER FOR EXEMPTION/CONSIDERATION FOR HOME QUARANTINE RULES AS PER GUIDELINES BY MINISTRY OF HEALTH & FAMILY WELFARE, PUBLISHED ON 05.11.2020"
It is an exemption form and since I was not applicable for institutional quarantine, he said that I will need to book a hotel for myself and asked if I have already booked. I said "Yes"
Then he asked me to go 1 floor down to "Buses/taxis" etc.
There a guy took down my Pune home address and I gave him my father's phone number as a phone contact.
At the next counter, the guy asked me for my Hotel's name. He then pointed to a local Bus and asked me to get into it which then dropped me to the hotel. Before getting into the bus I had to pay him Rs50 as bus fare. The time was about 1:30 am and there were others with me in the bus. Since Hyatt Regency is very close to the airport, he dropped my first. Took about 5 to 10 mins after the bus started.
A helper is there to carry luggage in and out of the bus.
A lady in the above mentioned whatsapp group said that if you are exempted at the airport by BMS, you can book a cab from the airport. The taxi number is noted down along with the driver's name by the concerned guys.
11. At the hotel
At the hotel they sprayed some disinfectant on all my bags. The receptionist booked 8 nights stay for me. I'd got cash from the Mumbai airport currency exchange. I wasn't sure if the hotel would accept a UK card so got cash and paid her. I checked in at 1:45 AM on 28th Feb. She said my Covid test will be done on the 6th morning and I should get my results by the evening of the 6th. Today (28th Feb) is my first day. It's almost going to be midnight soon and hence 1st March. The food and hospitality is nice here.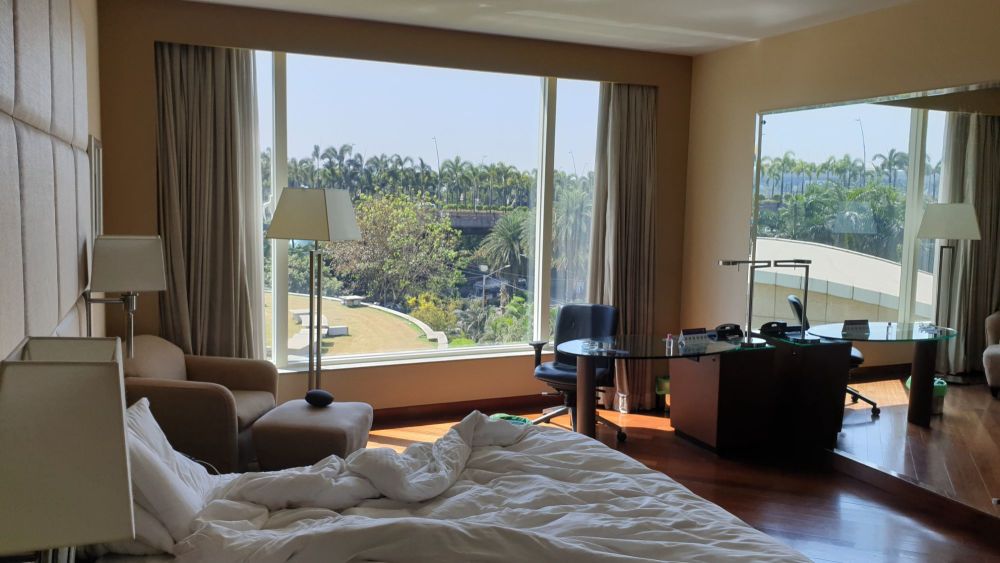 On the top of this page in the hotel booking section, I've provided details of the hotel. Officially quarantined members are not supposed to leave their rooms. Food is kept on a table outside the door.
The hotel is really good. Their service is very good. Their response time is excellent and that too when requested via whatsapp chat. Some of the extra things they provided me when requested by me were coconut hair oil sachets, bath salt, money / currency exchange( pounds to rupees) etc...
They said my covid test will be done at 2pm on my last day of staay and the result will be out by midnight of the same day.
Information about room quarantine, facilities, services, food, dining, bedspread, bedsheets, towels, room servicing, laundry service, payment etc is as follows: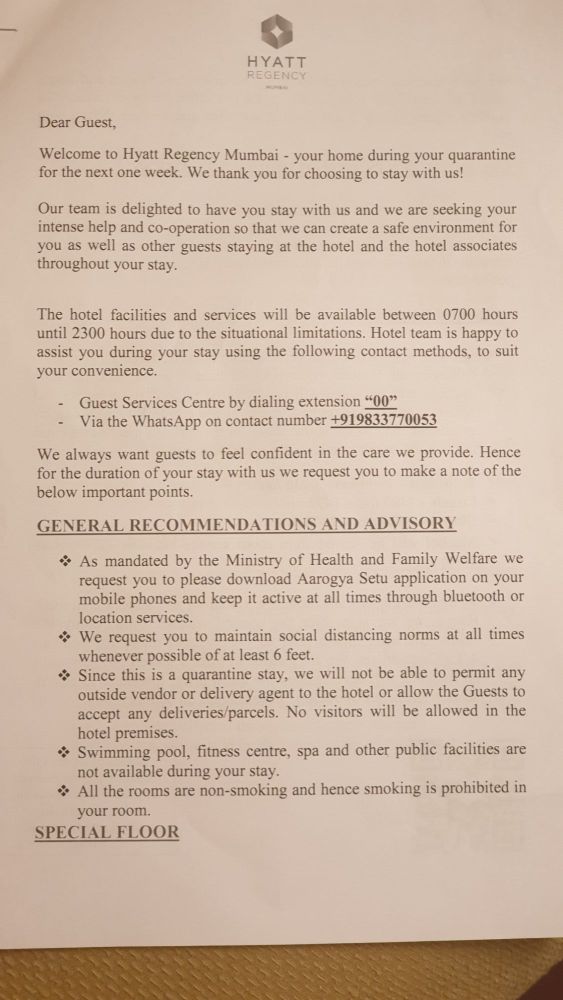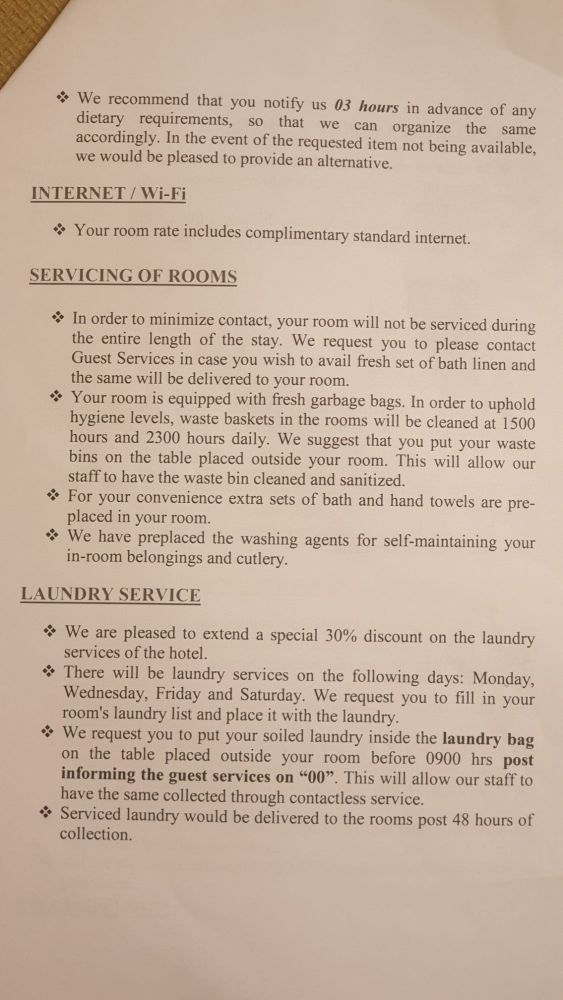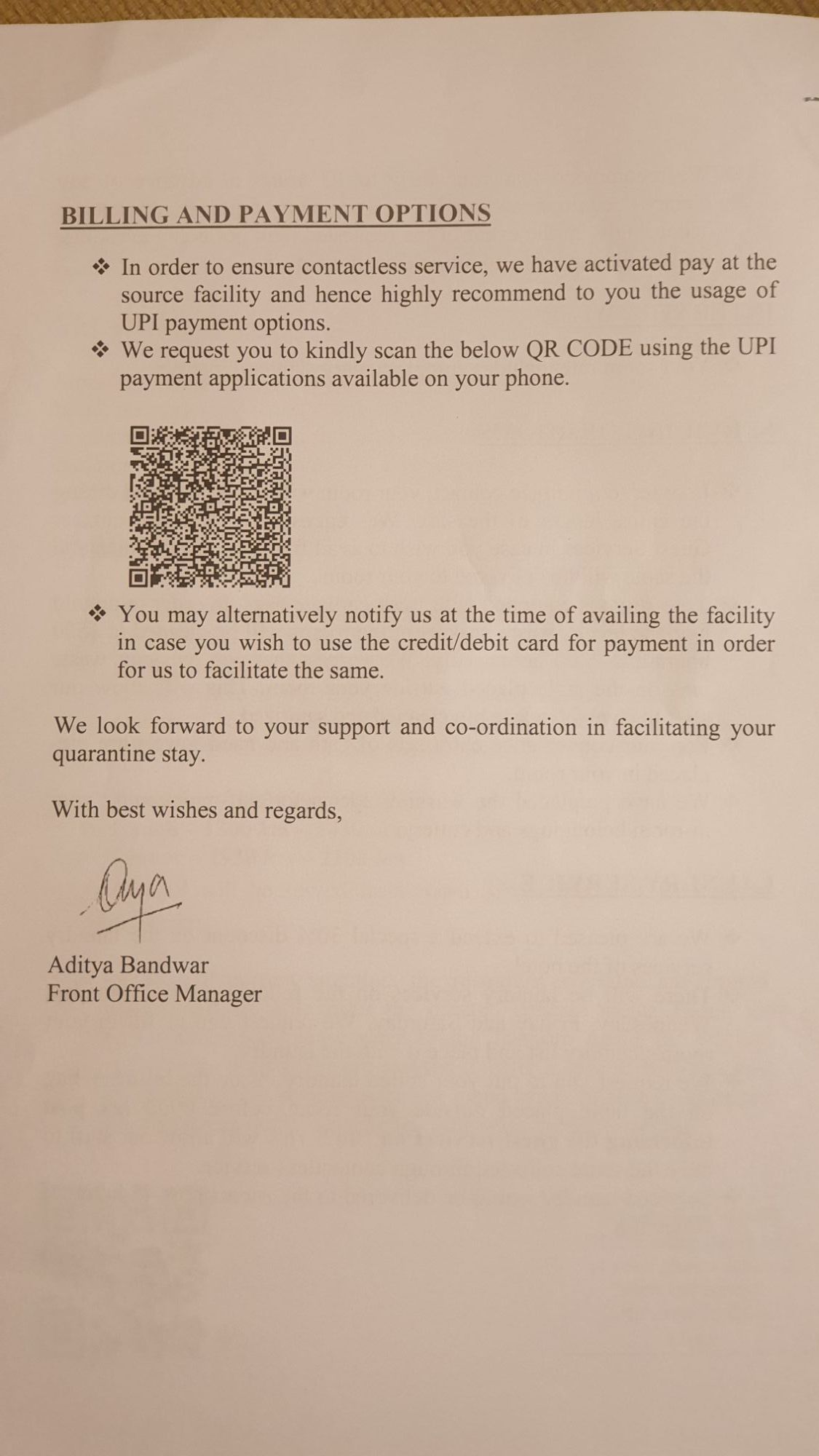 Hyatt Regency daily food menu can be seen below by scanning the right most QR code (get your phone camera close to the QR code to detect it) and then click on (and then click on "daily menu"):
OR
Click on Hyatt regency Mumbai Menu (and then click on "daily menu")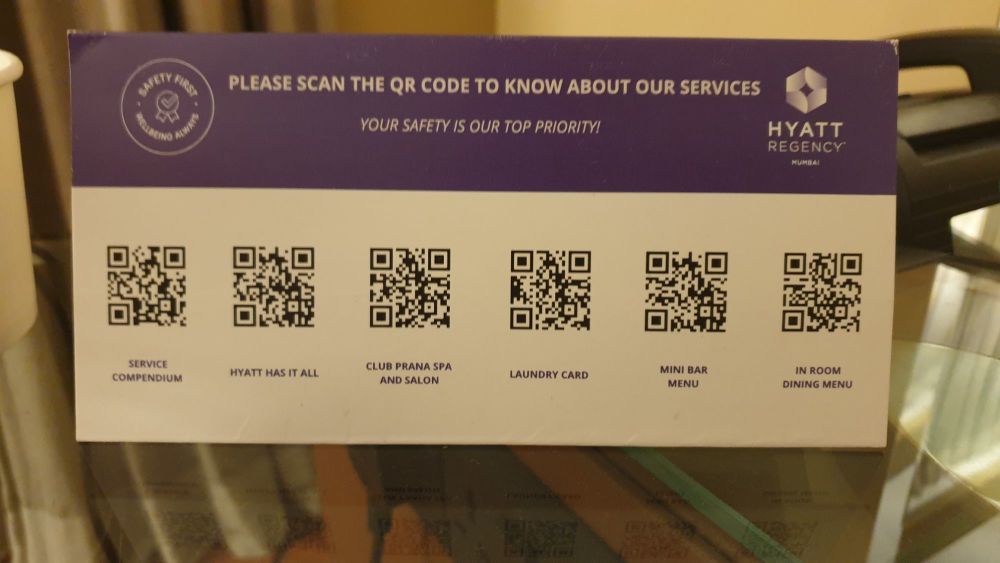 For example:
2nd March 2021 dining in set menu for quarantined passengers is as follows:
Breakfast: Coffee Walnut Muffin, Pav/lemon, Akuri, Tetra Pack Juice, Fresh Fruit Platter, Bhaji, Moong Dal Chilla.
Lunch: Carrot And Cucumber, Palak Paneer, Murgh Khada Masala, Shakarkand Ki Chaat, Lauki Tamatar, Lasooni Moong Dal, Steam Rice, Pickle, Chapati, Semiyan Payasam
Dinner: Roasted Cauliflower Soup, Carrot Koshimbhir, Paneer Jalfrezi, Murgh Masala, Tawa Aloo Chaat, Cabbage Thoran, Tomato Pappu, Coriander Rice, Pickle, Chapati, Coconut Barfi.
3rd March 2021 dining in set menu for quarantined passengers is as follows:
Breakfast: Apple Cinnamon Muffin Slice Bread Scrambled Egg Tetra Pack Juice Cut Fruit Bowl Masala Poha Misal Pav
Lunch: Veg Hot and Sour Asian slaw Chicken Black Pepper Sauce Fried Noodles Stir Fried Veg with Hot garlic sauce Vegetable Manchurian Vegetable fried rice schezwan sauce mango pudding
Dinner: Pepper rassam carrot and cucumber achari paneer andhra chicken curry three bean salad khate mithe baingan hare moong dal ka tadka jeera pickle chapati rice pudding
5th March 2021 dining in set menu for quarantined passengers is as follows:
Breakfast: Spiced Pumpkin Muffin Whole Wheat Slice Scrambled Egg Tetra Pack Juice Cut Fruit Bowl Steamed Idli Aloo Paratha
Lunch: Coin Papad Paneer Handi Murgh Dhabewala Singdane Ki Chat White Pumpkin Ki Subji Dal Fry Steam Rice Pickle Chapati Gulkand Ki Phiranee
Dinner: Tomato Basil Soup Tossed Salad With Olives Penne Alfredo With Vegetable Chicken Alfredo Chilli Flakes Herb Roast Potato Wedges Oregano Garlic Bread Cappuccino Cheese Cake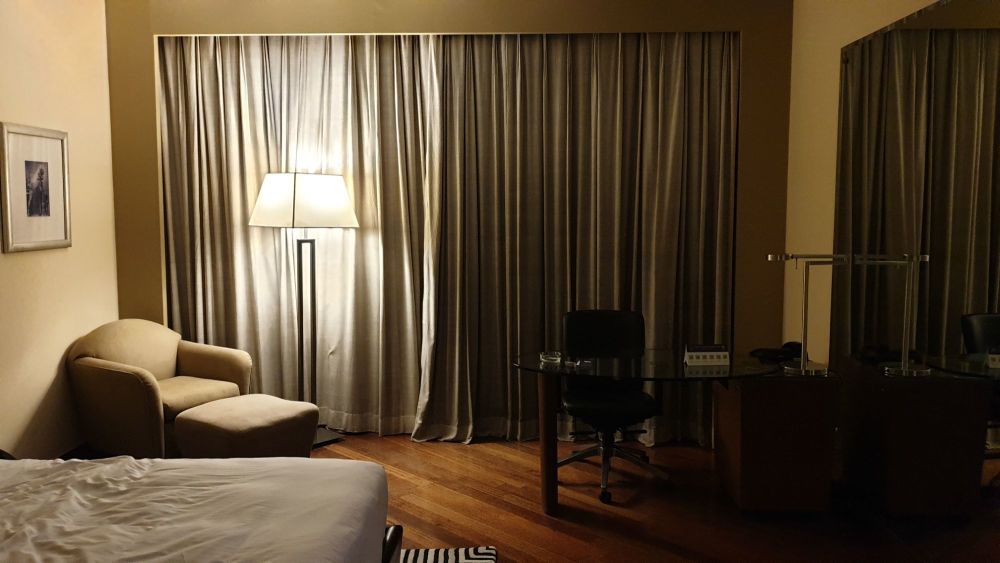 Bins with rubbish bags need to be kept out of the door by us and they would replace the bins with new bags. For any other requirement, we can call the receptionist at "00" or there is another whatsapp number as well. I'll keep updating this post.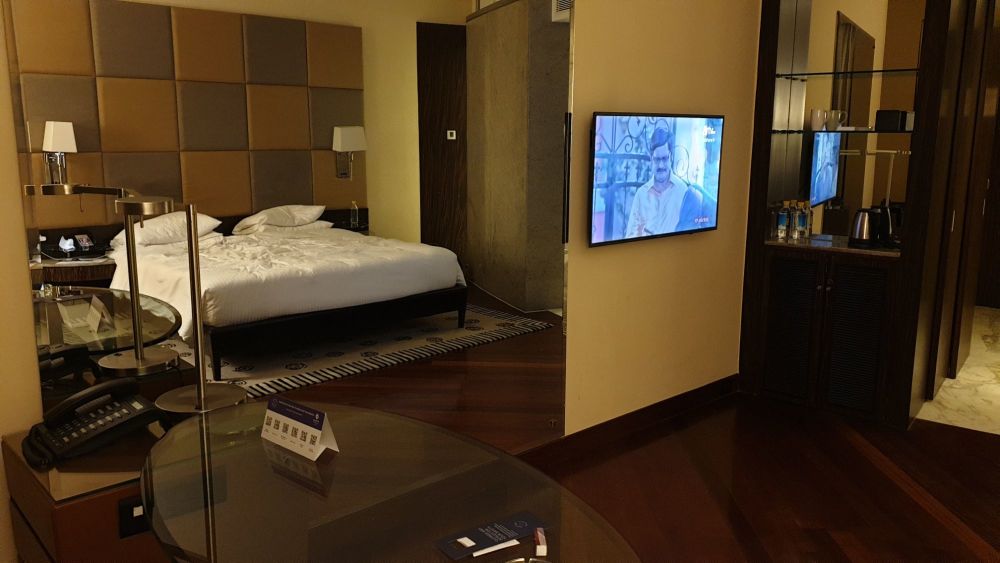 I should have bought an Indian SIM card before going out of the airport. This morning I tried to buy an Airtel prepaid SIM online. I gave my father's phone number etc and asked my father to whatsapp me his ID proof and address proof so I could get a SIM on his name. They phoned him in Pune. He explained them that I want to buy a SIM on his name. Then they called me and agreed to deliver the SIM to the hotel telling me that they would require me to show them my passport and will take a photo of mine. I had already told the receptionist that I need to pay the guy etc when he arrives. She replied back "okay". I told the Airtel lady that I'm quarantined in the hotel (don't have covid though). She agreed and disconnected. And immediately called back and said that they won't be able to provide me with the SIM as I'm quarantined.
I have 2 old Jio SIMs which I will try to activate tomorrow (2nd March morning) or ask my father to do so from Pune.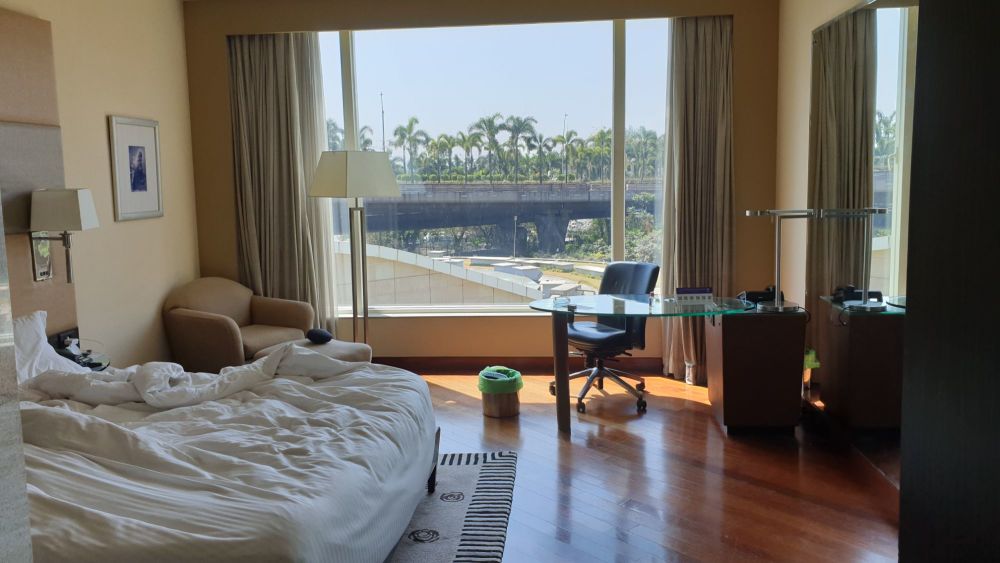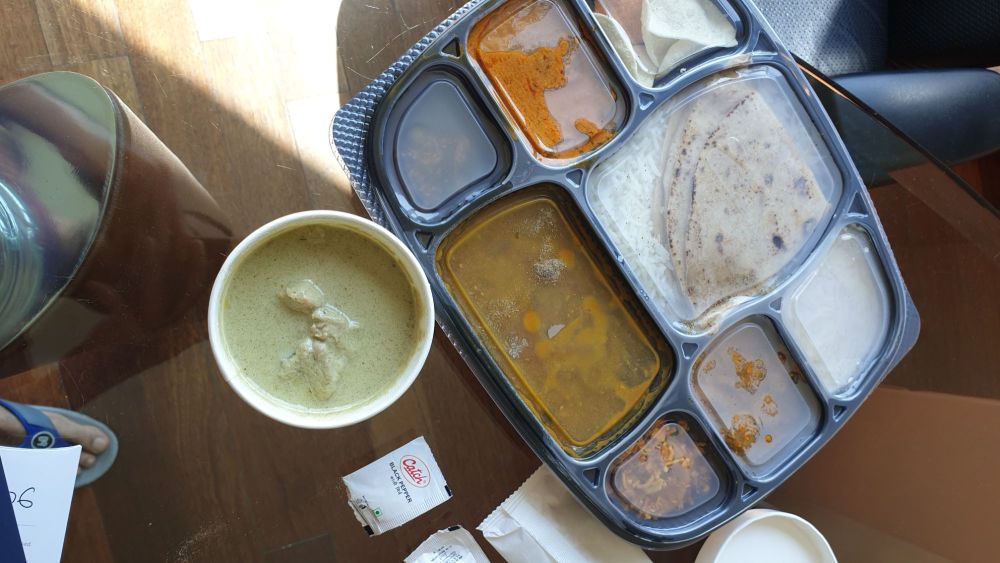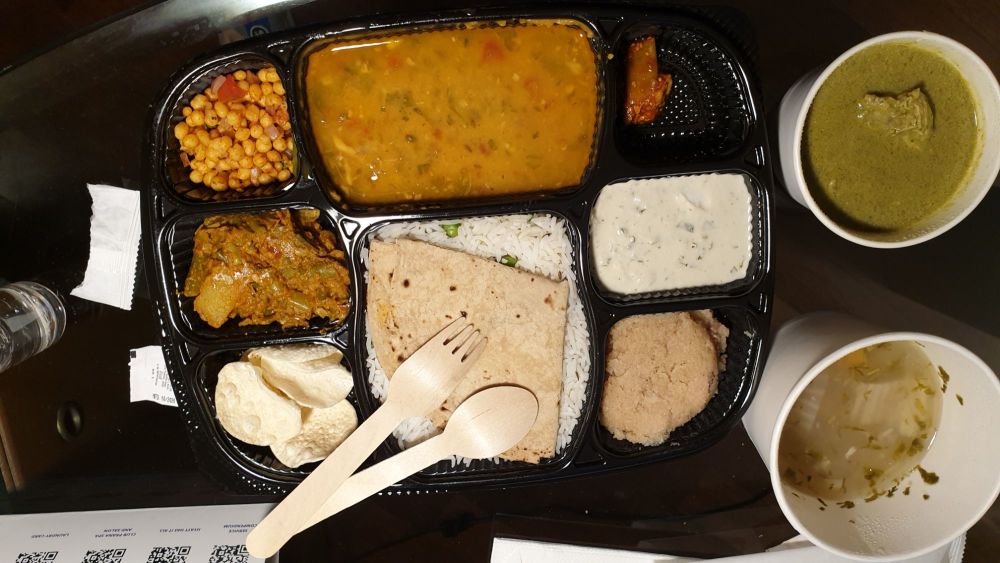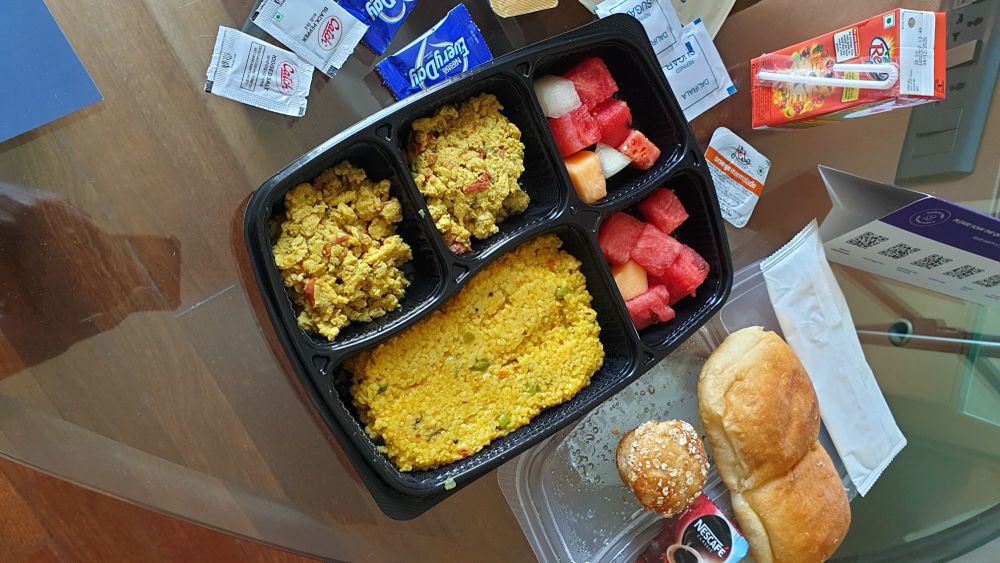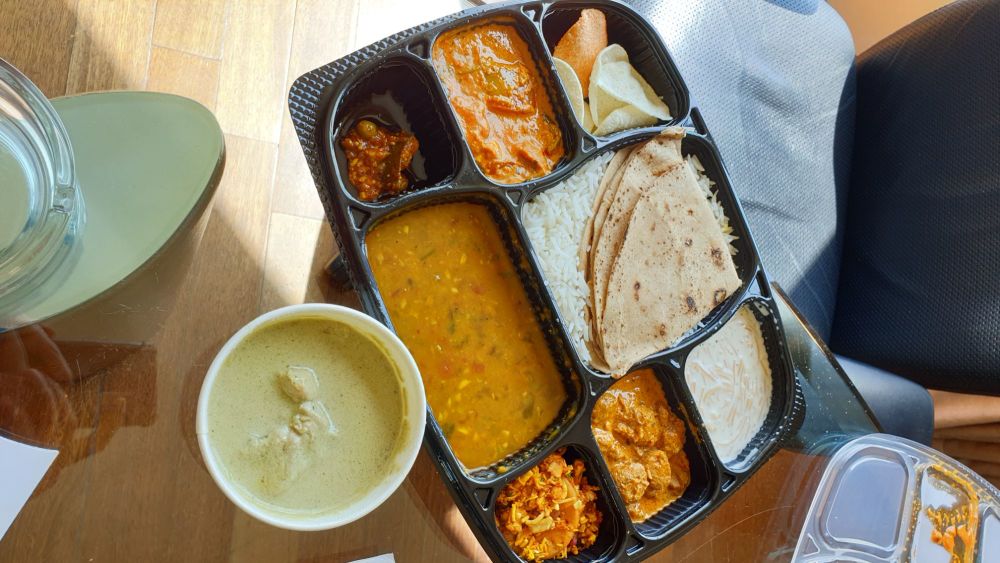 12. Covid-19 test, checkout from hotel

When I checked into the hotel before my 7 day hotel Quarantine at Hyatt regency hotel, Mumbai, the receptionist told me the day on which my covid-19 test will be done. A few days before the test, I whatsapped the hotel on the above mentioned number and asked them the time at which the test will be taken. They told me the day and that it would be taken at 2pm and the result would be out by midnight.
On the day of the test 2 guys came to do the test. They arrived at around 3:20pm. One guy noted down my contact number (I provided my father's number), home address etc.. The other guy did the test. It was similar to the RT-PCR test that I did at Heathrow but slightly different. He used 2 sticks instead of one. One for my nasal swab and the other for the swad at the left and right tonsils. This test was a lot quicker as well. I mean the rubbing time of the bud was a lot less than 10 seconds. The hotel staff mentioned that my result would be out by midnight. However the guy who did the test said that the result would be out by 10am the next day.
In the evening I checked again with the hotel staff to let me know as soon as my test result is out. On the same day at about 9:30pm the hotel staff contacted me through the intercom and told me that the result was out and that I could checkout. He said the checkout process would take about 5 mins when asked by me.
I checked out at around 9:50am and then waited for my cab that was scheduled to arrive at 11am. During the checkout, they gave me my bill and the negative test report (hard copies). FYI, no additional money was charged by Hyatt Regency.
13. Covid-19 test, checkout from hotel and cab booking to Pune.
I booked the cab through
www.savaari.com
. While booking I entered my pick up address as Hyatt Regency Mumbai, the destination as Pune, pickup time. The website showed me a list of cabs. I chose the cheapest of them which cost me
Rs 1890 (plus Rs 15 for every additional KM travelled after 150 KMs.)
The reset the distravelled to zero before starting). I received the booking email immediately which contained the booking reference number, driver details, car registration number, driver's contact details etc.
In further emails I received more information, driver's name, contact number, car's registration number etc..
The driver was helpful and friendly.
---------------------------------------------------------
Whatsapp conversation regarding evisa, OCI etc in he above mentioned whatsapp group
[01/02, 03:32] A: Hi, my son doesn't have oci n no e.visa and emergency appointments are given .. after feb 20th r they going to give evisa to travel India or going to extend I need to travel India as my mom is not keeping so well but this is not emergency for hci
[01/02, 03:32] B: Hi A, does your son have Indian valid passport along with British?
[01/02, 03:33] A: No B he is born here and has British passport
[01/02, 03:34] B: Ok, email high commission, they provide appointments for emergency cases
[01/02, 03:34] A: I gave reason she is not keeping well but they r not considering unless it's critical stage
[01/02, 03:34] B: Get a letter from doctor in India , and then resubmit
[01/02, 03:40] C: That's very rude and unfortunate
[01/02, 03:41] A: Ya two times I email same response
--------------------------------------------------
Facebook User: Didn't understand about RT-PCR test. If you took the test at heathrow, did you go 72 hours before your travel and got back home and then travelled on the date mentioned?
Me: Yeah that's correct. For the RT-PCR test, my appointment was at 2pm on 24th Feb at Heathrow extress test centre. And to catch my flight which was scheduled to fly at 9:35am on th 27th Feb, I went to Heathrow terminal 2.
-------------------------------------------
Question from FB user: Did you do your covid test at Mumbai airport? And what about people who are exempted?
Me: Hi, at Mumbai airport they checked for UK test result. They didn't take any covid test. And the same for exempted passengers.
-------------------------------------------
Question from FB user: Did they provide blankets in the Virgin Atlantic flight and was the entertainment working?
Me: Hi, yeah there were loads of movies and a blanket was there as well.
--------------------------------------------
Question from FB user: Is there a bath in the hotel room? Is it a single or double room? Do you feel claustrophobic?
Me: Hi, yeah there is a bath tub. It is bigger than a double room. I don't feel claustrophobic.
-------------------------------------------
[03/03, 02:56] A: Hi - I'm filling Air Suvidha Self Declaration form and it is complaining about flight number /tail number when I submit the form. I have entered BA flight number BA0143. The error says minimum 4 to maximum 6 alphanumeric characters which is what I have entered.
Anyone else experienced this who can help pls
[03/03, 04:35] Me: Hi A, can you check if it is BA0143 or BA143?
[03/03, 04:46] A: Thanks Girish - BA0143 was fine. The format of connecting domestic flight was incorrect
-----------------------------------
Article by: Girish Suryawanshi
Date: 28th Feb 2021
If you want to submit your London articles, experiences, reviews etc.. or want to submit an article related to your business in London please visit the following link - Submit London Articles