IG1 2AG - Dosa Special, ilford
---
IG1 2AG - Dosa Special, ilford
Dosa Special is a south Indian / Srilankan restaurant located about 3 minutes walk from
Ilford
train station. I've been there quite a few times and I quite like their food. Though being a south Indian restaurant, their North Indian dishes are very tasy. Their Nans are also nice and not like those typical Nans that you get in cheap restaurants. Their Dosa used to be not very crispy but lately they have improved their quality. The medhu wada or udid wada is not nice and the ones in
Sarvan Bhavan
or Chennai Dosa or other south Indian restaurants is better than their's. I once had chicken 65 which was salty and once or twice had chicken lollypop but it was nothing like the chicken lollypops I used to have back home in India, Pune. They have a very different way of making chicken lollypops. I didn't like their chicken lollypops at all. Their staff is alright. The waitresses seem quite well behaved. Although they didn't agree when I commented about the chicken lollypop :). They used to weekend Buffet and have now introduced weekday buffet as well. I think the weekday buffet is cheaper than the weekend buffet. They do very tasty egg biryani.
Address :
No 8, Chapel Road, Ilford - IG1 2AG
Opening Times : Monday to Sunday: 8AM - 11PM
Website
: dosaspecial.co.uk
Contact : dosaspecial.co.uk/contact.php
15-MAY-2015 :Dosa special recently seem to have introduced some meal deal offers. Following are some of them:
Rice and 3 veg curries - £4
Rice and 2 veg curries and 1 non veg curry (chicken or Mutton) - £4.50
Meat Samosa - 50p, Medhu Vadai - 50p, Egg and fish roll - 50p, Veg Samosa - 50p, Fish cutlet - 50p, Veg Roll - 50p, Mutton roll - 50p, Crab Claw - 50p.
You can also find some south indian sweets and snacks near the cash counter.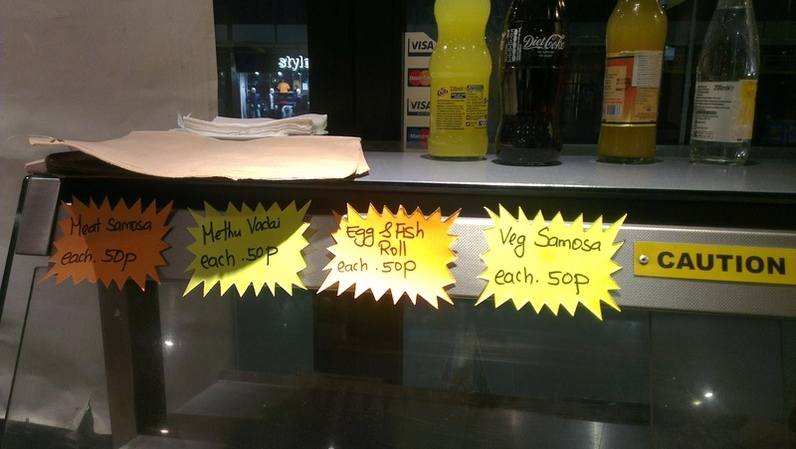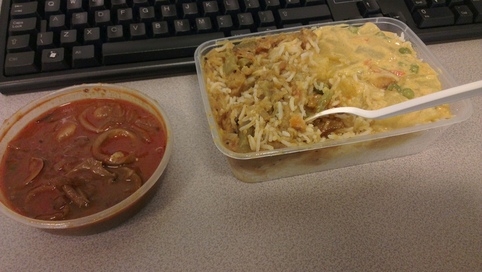 The above image is a meal deal - 1 daal, 1 veg korma, 1 squid curry and rice for £4.50
07-MAY-2015 : Their management has changed recently. There is a bit of modification in the interiors and they have increased the food prices. There is no 10% discount that they used to do is no more. The staff is quite friendly and the food is ready quite quickly. I've noticed that the buffet that they do between 12 and 3 pm sometimes has only 1 non vegetarian dish and not two. Sometimes there is no sweet dish. You can find a midget or 2 lingering around the tables near the kitchen. Most of the food is quite nice and tasy.
Comment
Today I called Dosa special and placed an order at about 9.45PM. The waitress on the phone said my order will be ready in about 10 to 15 minutes which meant the order would be ready by 10 PM. Then I realised that I wouldn't be able to reach the restaurant before 10.30 PM. I told her the same and we agreed that I'll call them again and place the order by 10.10 to 10.15 PM so my order would be ready by 10.30. When I called back at 10.10 PM, and placed my order again, a senior waitress came over the phone and said you are placing the order again and that your order is already ready. I was quite surprised and understood that the junior waitress forgot to cancel my first order in spite of agreeing with me that I would call again. I initially was not happy thinking that the food would have cooled down but later agreed to collect the old order. I also agreed of accepting rotis instead of garlic naans which I had ordered in my new order thinking it would be a waste of food and the chef's effort. On the phone I also explicitly told that I do not have any issues but I made them aware that it was not my fault as I thought that the senior waitress was trying to blame me. When I went to collect my order she stressed on the point that I didn't cancel my first order. I said I didn't cancel it but isn't it understood that order needs to be cancelled when I told the junior waitress that I'll be calling again so that I can come and collect the food a bit late? And moreover, why would I place the same order twice? I didn't get any kind of apology. Moreover the junior waitress was making faces. It was really disappointing. I didn't want to put this negative feedback but I had to put it because of the poor customer treatment of Dosa Special staff.
Comment
I've tried paneer butter masala, madras lamb curry, mutton biryani, garlic naans and gobi besan fry. All the dishes were quite tasty and the lamb and mutton was well cooked and soft. The mango lassi was nice as well. But the salted lassi had `tons` of jeera because of which my friend had to leave most of it. I'd also like to mention that they give a 10% discount on all take aways.
livepages::jquery(); ?>