Momo's corner Koregaon park Pune Maharashtra India
---
Momo's corner Koregaon park Pune Maharashtra India
Finally I managed my
trip to India during the quarantine
and I'm loving it. Two of my cousins visited me and my family recently and I planned a misal pav breakfast with them, my brother and nephew at "Samarth Misal House" on Airport road, however couldn't make it there as it's closing time was 4.30pm and I wasn't aware of it and it was already 4pm and we were still watching movies. By the way, the breakfast plan had changed to late lunch plan as my sister in law had prepared sabudana khichadi with ground peanuts and potato. It was yummy!
So, since the misal place was closed, we decided to go and have momos (Nepalese dumplings). My brother knew a place which was very famous for it's momos. It's in Korean park and might be the best momo place in Pune!
Address
: Sapphire Apartments
,
Lane Number 6, near Wagaskar Garden
,
Ganga Fortune Society
,
Meera Nagar
,
Koregaon Park
,
Pune
,
Maharashtra 411001
Plain chicken momos - Rs TBC / box
Tandoori chicken momos - Rs TBC / box
My brother said the owner started the business in a small roadside stall/tapri/laari. Over a period of time it had transformed into this nice place. Koregaon Park is one of the most expensive places to live in Pune, if not the most expensive place.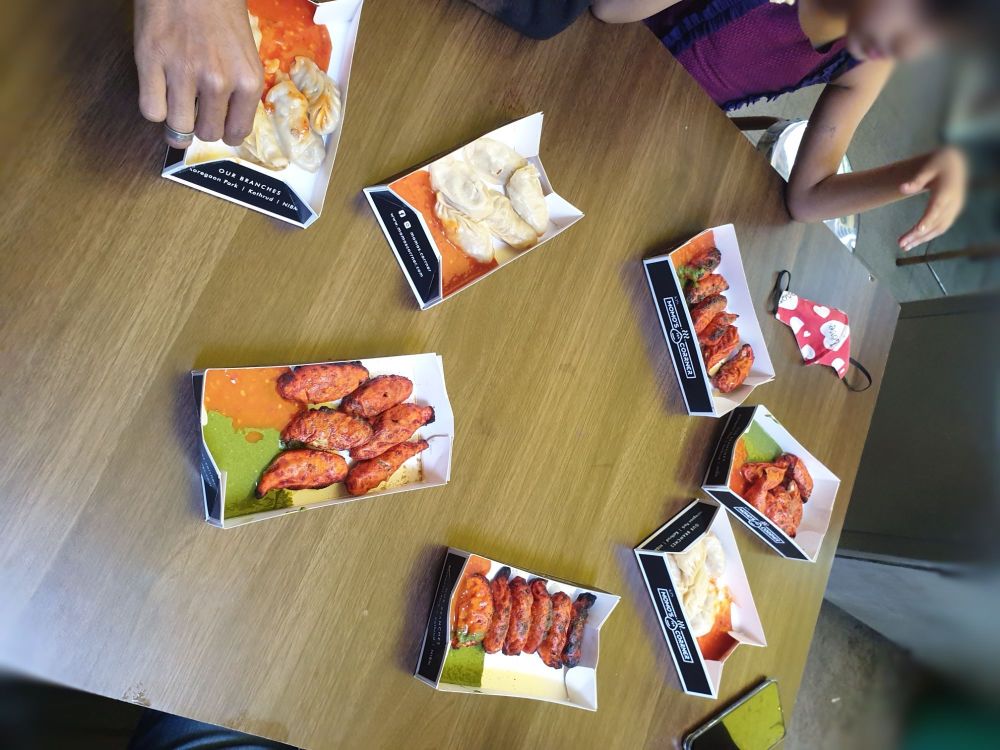 We ordered 6 chicken momos and 5 chicken tandoori momos. Both types of momos were very tasty, juicy, well cooked, good texture. The tandoori momos were a bit spicy and hot. My brother and cousin chose 2 sauces - red and green. My cousin's 5 year daughter also liked them. The cover non-tandoori momos had several folds whereas the tandoori momos looked like thick fat red slightly bent gherkins with nicely cooked tandoori masala stuck on their skins/cover. As far as I remember there was a fresh fruit juice centre as well in its premises. We went there at about 4.45pm or something so it wasn't peak time. The crowd was quite young, trendy and college going. If I'm not wrong each box containing plain chicken momos had 5 of them and the tandoori momos box had 6 of them. Decent quantities of chutneys were provided and the sauces/chutneys were directly poured into the boxes. When requested, they provided the chutneys in separate containers. The res chutney might have been schezwan sauce.
---
Text = momocor
livepages::jquery(); ?>