E12 6SB - Mamalla Indian restaurant Eastham
---
E12 6SB - Mamalla Indian restaurant Eastham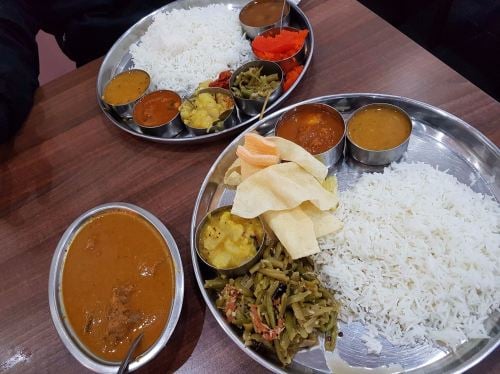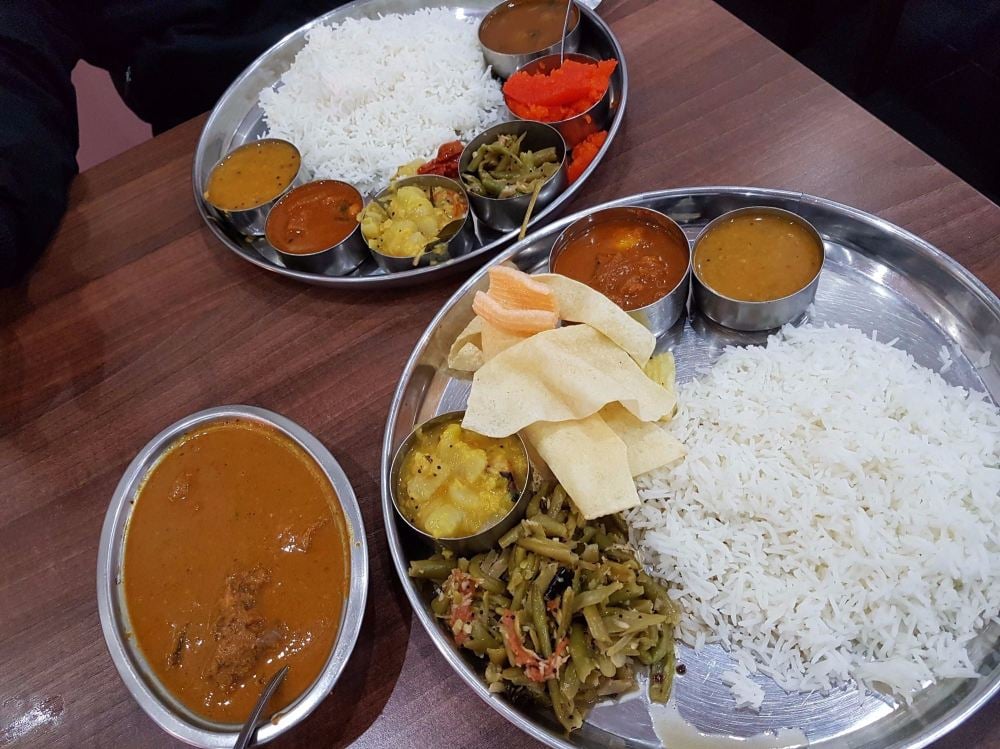 I've been to "Mamalla" a couple of times and ordered online from there a couple of times. It is a typical south Indian restaurant. The prices are quite reasonable at the moment. They used to be quite cheap but at the moment they are quite reasonable. It is a small restaurant / cafe. The staff is polite and decent. But you can go there with family unlike the neighbouring restaurant called "Royal Chef" which is a bit cheaper but quite congested. "Royal Chef" is mostly visited by students and bachelors etc and I wouldn't suggest families to go there. "Royal CHef" serves veg biryani in the buffet but "Mamalla" does not. I like "Mamalla" more than "Royal Chef"
Address: 264 High St N, London E12 6SB (4 minutes walk from Eastham station)
Phone: 07889620424

I've had the following there (prices as of 11th Jan 2017):
1. Non-Veg Buffet: See above pic. It is for about £4.95. You get plain rice, 2 veg curries (for example spinach and potato + Aubergine / Brinjal), daal / lentils soup, green beans, sweet / dessert, rassam, paapad / pappadums, Mutton or Chicken curry. The quality and tast of everything was good although I didn't fancy the potato + brinjal curry much. Mutton was nice and soft and tasty.
2. Rose Milk: It is for £1. About 1/4th of the glass was filled with just lather / froth. The glass was a decent sized small glass. Taste was not good.
3. Veg Buffet: It is for £3.95. It is the same as the non-veg Buffet except the non-veg curry.
I ordered the following online via Hungryhouse:
4. Sambar Vadai: £1.99. Nice big medhu vadas, dipped in sambar. Decent taste more or other like any other good south Indian restaurant.
5. Chapati with mutton curry: £2.99. The mutton was just fabulous. Probably the best Indian style mutton curry (goat curry) I've had in England. The mutton was very tender and flavoursome. They give one chapati which is quite decent sized and not thin, so the chapati is filling. I'd suggest you to order one more for £1.
6. Mutton Biryani: £3.99 - Will update soon
7. Chicken Biryani: £3.99 - Will update soon
8. Fried rice with chicken: £4.99 - Will update soon
9. Paratha with chicken: £2.99 - Will update soon
Submit comments or your own restaurant experiences here