IG1 1NR - Thaali Indian veg restaurant Ilford
---
IG1 1NR - Thaali Indian veg restaurant Ilford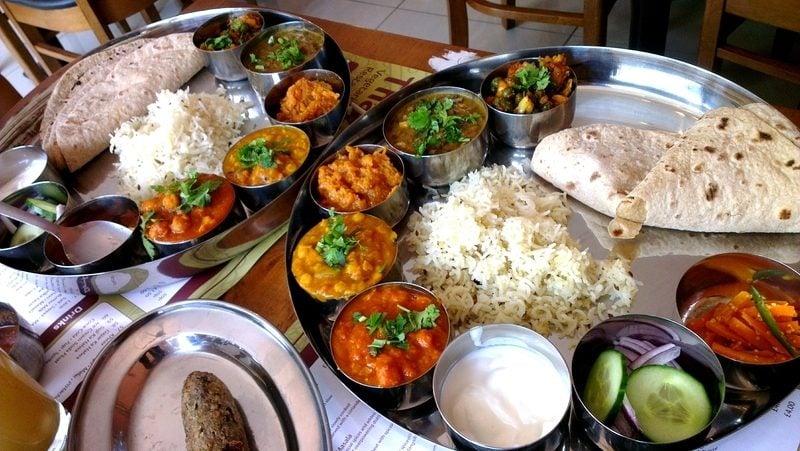 The weekend was here once again and once again I was looking for a good authentic Indian restaurant. By authentic I mean the restaurants which follow the correct and original Indian recepie and not any shortcuts. I was quite surprised to know that more than 80% of the Indian restaurants in UK are run by Bangladeshi. So, by now I can easily tell if the restaurant is authentic Indian(Punjabi, Gujrati, South Indian, Maharashtrian) or Bangladeshi. For example, the bangladeshi
restaurants make their Paneer curries sweet and most of the dishes don't taste the same as Indian dishes. And spell Paneer as Poneer or Ponir or mutter as motor. I usually order takeaways online from Hungryhouse and sometimes search for new restaurants by putting my postcode there. So, this time I found a new restaurant called "Thaali". The name itself sounded authentic. Thaali in hindi means the plate(usually metallic) in which food is served. In modern restaurant language, a set meal of a few curries, daal, Indian bread and rice is referred to as thaali. So, in the menu I could see Punjabi and Gujrati thaali. And a shaahi thaali as well.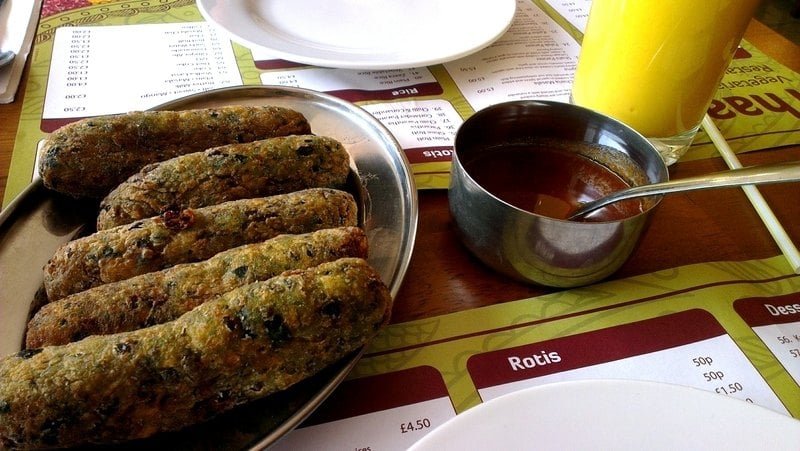 I also saw items like harabhara kebab, rajma, sev tomato, Undhiyu, daal makhni, khichadi and kadi, pav bhaji, masala chai, which meant this was a 100% authentic Indian restaurant as dishes are very local Indian dishes. I and my friend had hara bhara kebab which came with 5 kebabs and tamrind chutney, 1 mango lassi, 2 Punjabi thaalis which contained daal makhni, chole, aloo gobhi mutter, daal with doodhi, gajar ka halwa, 3 chapatis, jeera rice, dahi, carot pickle, sliced red onion and cucumber slices.
The food was nice but I wouldn't say excellent. Punjabi thaali was for £9.99 each. Total cost of food for the 2 of us was about £26. The staff was nice and friendly. Food was served hot. There are 2 medium sized TVs mounted on the walls, toilet was small and clean.
Address
317 High Rd Ilford, Greater London IG1 1NR
Phone
020 8514 1961
Menu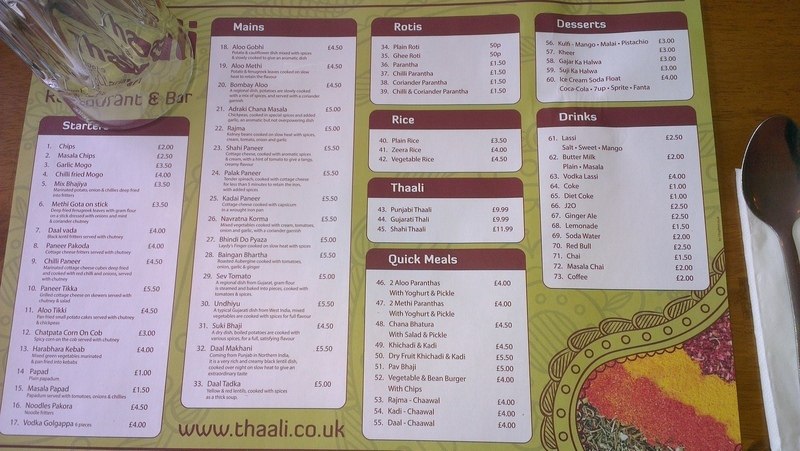 Order food online from Thaali, Ilford
Submit reviews about Thaali, Ilford
Submit similar London/UK restaurant review with photos