WETTL Masters cup draws and results
---
WETTL Masters cup draws and results
WETTL - Masters cup Division 1 draw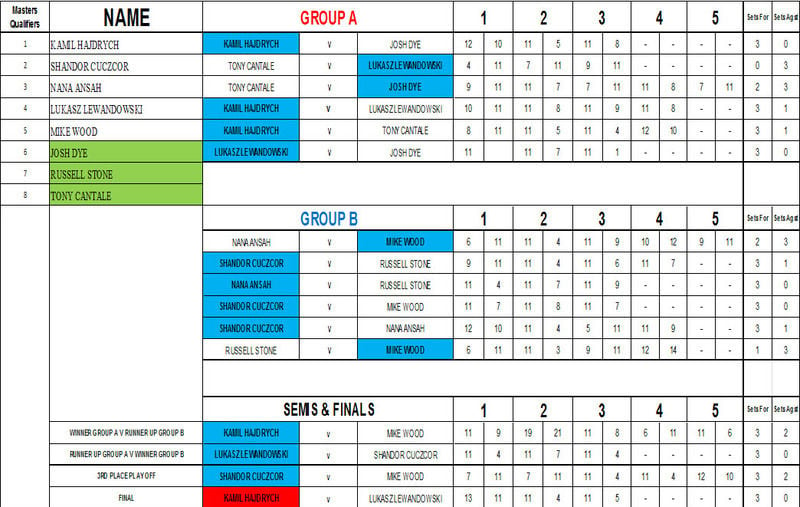 WETTL - Masters cup Division 2 draw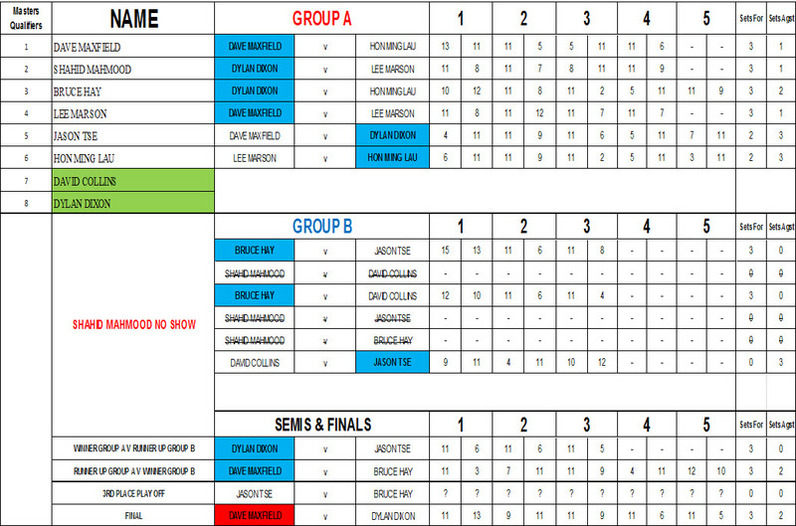 WETTL - Masters cup Division 3 draw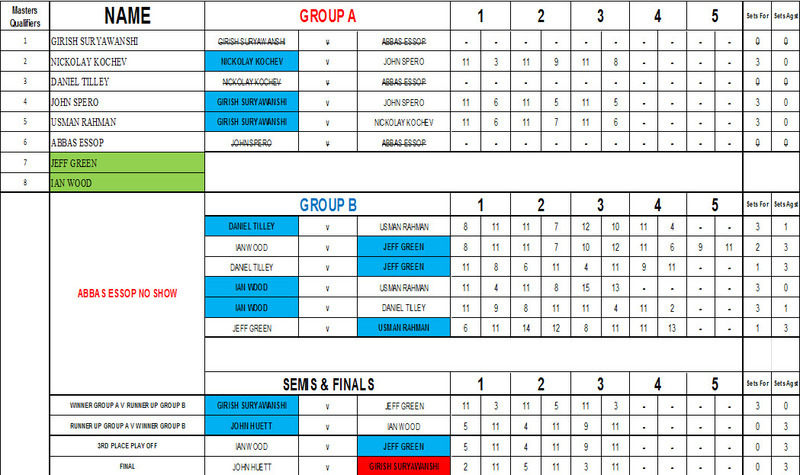 Following summary email is by Paul Pells
After some cancellations and some replacements the Masters got underway. Unfortunately in Division 2, Shahid Mahmood didn't show, and in Division 3 Nicolai Kochev and Abbas Essop didn't show. Fortunately John Huett was hanging around and agreed to fill in in Division 3, keeping division 3 only one short.
Division 1.
This was made complete thanks to Tony Cantale filling in at the last minute. In Group A number 1 seed Kamil Hajdrych won all 3 of his matches, putting him straight through to the semi-finals against runner up Mike Wood from Group B.
The Group B match with Nana Ansah and Mike Wood sparkled with many, many long rallies, deep hitting, and counter hitting all the way through to the match end. Mike just won it 11/9 in the fifth a fitting finish and a game I was privileged to watch.
Winner of Group B with 3 also, was newcomer to the West Essex League was Shandor Cuczcor with wins over Nana, Russell Stone and Mike. Shandor had to face Lucasz in the semi-finalwho made easy work of Shandor with a - 4, -7, - 4, win.
The Group A runner up Lucasz Lewandowski, who played a weekend tournament, was suffering somewhat from that and lost to Kamil 0/3 in the final, which was a repeat of his earlier and closer Group A match with him of 1/3. Well played Kamil.
Third place play off between Shandor and Mike was looking like a win for Mike in 3, Mike going 2/0 up - 7 & - 7, but Shandor managed to turn it round to win 12/10 in the 5th. Well done Shandor.
Division 2.
Group A was complete with players as Mitch Herber number 1 seed cancelled earlier that day, Dylan being available after my emails. 3 matches went to 4 and the other 3 to 5. With Dave Maxfield winning 2 and Dylan Dixon 3 we had the other semi-finalists.
A no show by Shahid Mahmood in this division in Group B meant only 3 matches which led to Bruce Hay going through to the semi as winner, and Jason Tse as runner up.
As it turned out Dave and Dylan made the final which went all the way, Dave coming from 2 behind to win 11/5 in the 5th. Well done David Maxfield. There wasn't enough time to play for third place between Jason and Bruce.
Division 3.
In Group A with Nicolai Kochev not turning up and newcomer John Huett coming in we were back to 6 group matches. However Abbas Essop did not turn up either so we were back to 3 again. John Spero lost to both Girish and John Huett, not surprisingly to Girish as he was undefeated in the league.
Meanwhile Group B, count back was needed between Jeff Green and Ian Wood; it meant that Jeff made the semi against Girish, while John faced Ian in the other. With Girish and John both winning 3/0 a good final was looming. I did not see the match but Girish won comfortably in 3. Well played Girish. John beat Ian -8 -8 -8 in the 3rd place playoff, so well done John.
Everybody said they enjoyed it which is a good reward. This completes the 2014 West Essex Fixtures.
Also see:
West Essex Table Tennis league 2013 - 2014 results