---
---
| | |
| --- | --- |
| Clapham Common, London | Custom Search |
Clapham Common image gallery
Clapham common is a vibrant place crowded with beautiful youngsters. It has a few lush green parks with a lot of activity going on. There are basket ball courts where you can play for free. You a can find people playing football, cricket and tennis as well. I saw a non grassy muddy field as well where a proper football was played. I spotted 2 small water bodies one was a properly built small pond and the other was kind of a wild natural small pond. There were ducks in and around the natural pond. In the artificial pond, I saw electronic toy boats of decent size being controlled by remote controls. I saw guys flying kites of the shape of a parachute and a guy flying a huge toy helicopter using a remote control. It was real fun and something different. There is a bandstand as well. I had been there at the start of the summer at it was so pleasant that it felt like heaven due to the warm weather and the bright sun light. I could see some people enjoying the weather, sunlight and the surroundings by lying down with their eyes closed. It's a great place to have a small pic nic. We took a small meal with us and had it under the sun and on lush green grass. We also had some wonderfully tasty ice cream while approaching the park. We got it from a near by shop and was very nice and very cheap. One can usually see people walking, jogging with friends and family. The area around the park is quite different from the typical London. It is more beautiful, clean and you will see more nice shops and happy and young people around, well, at least in the summer when the sun is shining. The residential areas near by are also very nice and beautiful. The houses there must be pretty costly. One strange thing my friend Gaurav Mean noticed was that thought it was a Sunday late evening, the pubs were packed with young crowd ! I am not sure about the reason for that but may most of the crowd were students and don't have to work the next day or may be due to the fact that Manchester United won againt Chelsea on that particular day. One more thing we noticed was that there were hardly any one of us, almost none. I mean south asians.
Clapham common map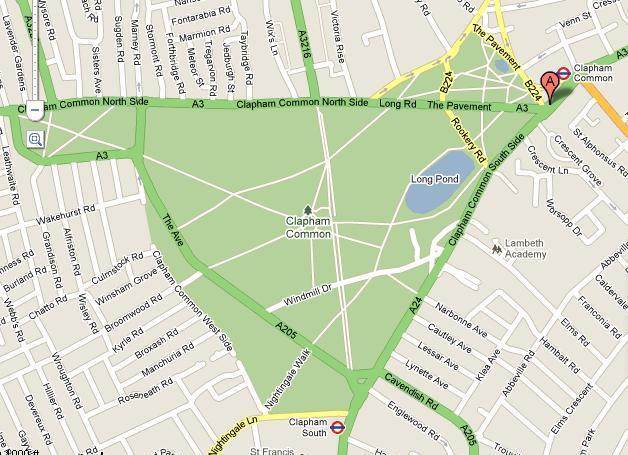 Clapham common scrollable & resizable map
How to get to Clapham common?
Clapham Common is situated on the south of London and can be reached via the Northen line of London underground.
Clapham Common Address (Postcode)
Clapham Common, london - SW4 7AJ
Upcoming events
1. Get loaded in the park 2011 (12-June-2011, Sunday)
Live Indie and alternative music.
2. Concert on Bandstand (03-July-2011, Sunday)
A concert by Methodist Ladies' College from Australia, which is free of cost.
3. Walk 10 (13-August-2011, Saturday)
4. South West four (27-August-2011 to 28-August-2011, Saturday and Sunday)
People who are mentioned in this article - Me(Girish Suryawanshi) and Gaurav Mehan.